High Places - Clip n' Climb
Bring out the adventurer in you!
Welcome to High Places Clip n' Climb
Bringing out the adventurer in you!
Book online or call us on 01403 211311.
High Places Clip and Climb is a new and innovative indoor adventure concept. Our colourful arena features 11 fun themed climbing experiences and 19 individual climbing lines up to a maximum height of 7.5 metres, each showcasing striking designs.
Prepare yourself to experience action packed adrenaline fuelled fun whilst testing your agility, confidence, balance and problem solving skills.
From 4 years of age to adults!
The minimum height for the 'Leap of Faith' is 1.2m.
Session times
All sessions include a 30 minute harness and safety brief and 45 minute climb.
Weekdays Term Time
Monday - Friday
15.40pm-16.30pm-17.20pm-18.10pm
Saturday - Sunday 
9.00am, 9.50am, 10.40am, 11.30am, 12.20pm, 1.10pm, 2.00pm, 2.50pm, 3.40pm, 4.30pm
Under 5's sessions
Mondays and Thursdays
11.00am term time only
Weekends and School holidays
9.00am, 9.50am, 10.40am, 11.30am, 12.20pm, 1.10pm, 2.00pm, 2.50pm, 3.40pm, 4.30pm
Teen Sessions
Why not try our dedicated sessions for adults on Wednesday at 7.00pm or the teen session on Fridays at 7.00pm.
All sessions are £9.00 per person
Under 5 sessions are £5.00 per session
Climbing Adventure Party
High Places Clip 'n Climb is the ideal experience for young adventurers looking for an exciting birthday party to remember. Our climbing courses are perfect for all abilities, we can increase the difficulty level if necessary, as there are many exciting challenges! Clip 'n Climb provides the perfect environment for your child on their special day.
Climbing parties are held at the following times:
Saturdays and Sundays
9:50 am
11:30 am
1:10 pm
2:50 pm
4:30 pm
Weekdays
1 hour 15 minutes includes harnessing, safety briefing and climbing.
£197.00 for up to 20 children
Register you interest using our enquiry form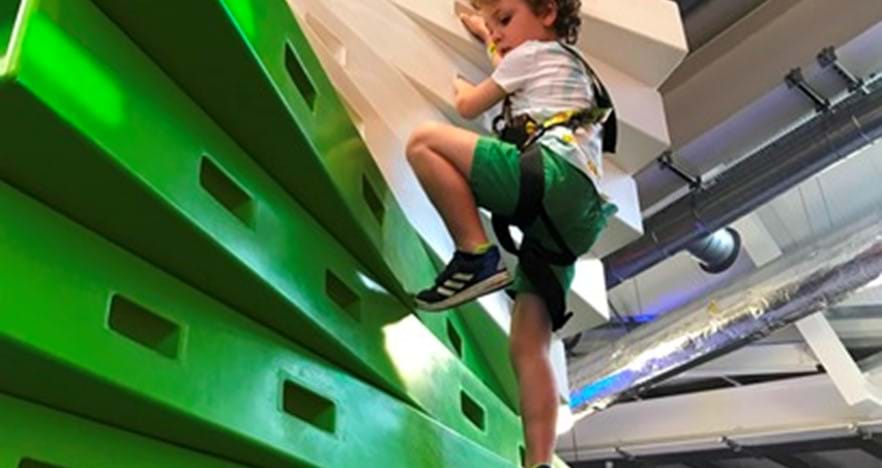 Climbing Walls
We have a variety of climbing walls to suit the ability of all of our climbers.
Find out more